News
ClarUP – Innovative technology solutions and trends from legal knowledge to IT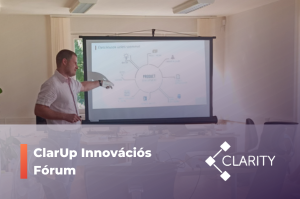 Innovation is a key factor on the road to business success. This approach is reflected in our ClarUP forum system, which has been held four times a year since 2014 and focuses on innovative technology solutions, ideas and trends.
At our July forum, Zoltán Fábián gave a presentation on the lifecycle of software products, while László Hideg and Tamás Fábián explored the legal background of money laundering. Finally, Erik Zsáki and Mihály Berndt presented the topic of object detection in satellite images.
Innovative thinking and joined-up thinking will continue to be a priority to achieve successful business results.