News
Our competition for innovation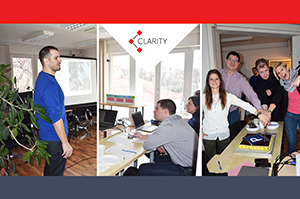 In December, LAB, Clarity's Innovation Division, announced its first innovation home competition to create a solution to the following problem:
Looking from the direction of the street, there is no indication of whether there is any room left in Clarity's internal parking lot. If you drove in but could not succeed to park, you have to revert back to the street in a very narrow path, which is uncomfortable and dangerous too. The size of our company is constantly growing, more and more colleagues have their own car, and it is also possible that a parked area will be built in the surrounding streets, so it is likely that the parking situation will be even more complicated in the future.
Teams could apply for the competition in mixed groups with at least 3 people (seniors, juniors) from different competency centers.
All of our colleagues were eager to compete. A total of 3 teams has shaped with the following names:
Smart Parking System
Internet of Parking
Wheel Clamp
The runoff was held in the morning of 19th of March, when the teams presented their solutions and then answered the questions of the professional jury and the audience. There was also an external expert in the professional jury, who works for a traffic engineering company as a leader of their Development Department, and helped us evaluating the solutions outlined.
The competing teams came up with different ideas. On the basis of the jury's and the audience's votes, the order was finally revealed. The evaluation was made considering the dimensions of feasibility x functionality x idea x cost x security x development possibilities x other benefits (marketing, innovation).
According to the original plans, we will shortly implement the winning team's project. However, in each team's presentation, there were excellent ideas that we would be able to invoke in the progressive implementation process of the plans. In our next news, we hope to show you the concrete realization of the winning plans.